Collision Shop Near Roseville, MI Gives Spring Maintenance Tips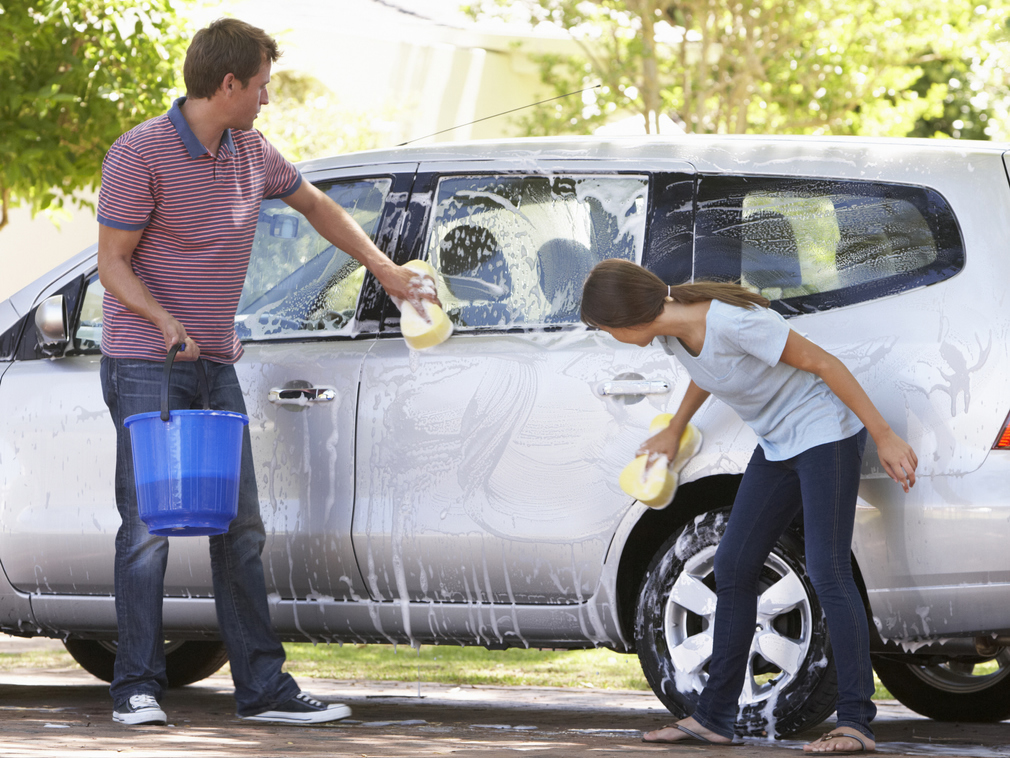 We are just one week away from the first day of Spring for 2019. Will we have another snowfall?  You never know in Michigan! But we are definitely getting closer to warmer temperatures and longer days.
Winter can be tough on our cars between the salt and chemicals on the road and those giant potholes. So just as you do a spring cleaning for your home, you should do the same for your vehicle.
Here are some tips on how you can get your vehicle ready for spring so not only will it look shiny and new, but it will be safe and reliable for those upcoming road trips.
Clean the Interior
Start with cleaning the interior of your vehicle.   Wipe down the dashboard to remove driving dust and wipe down your steering wheel as that is a primary area for bacteria to build up. Use an interior brush to really clean those buttons, switches as well as any other details.
Wipe down the gas and brake pedals to remove any salt build up. You can use a microfiber towel or add a cleaning solution. Just be sure not to use a solution that will leave behind a greasy residue.
Next it's time to thoroughly vacuum. Remove the mats and check for any salt stains. When you are finished vacuuming, address any stains on the carpet or upholstery.
Clean the Exterior
For a thorough and deep cleaning, place your vehicle on jack stands and remove the tires, clean them one by one and then rotate the tires before placing them back on the vehicle. This level of cleaning is probably something you won't do every weekend but you should perform a deep cleaning at least twice a year – once before the winter hits and again when winter is over.
With the wheels removed from your vehicle, rinse the wheel wells with water to remove heavy dirt. Then apply cleaning solution and scrub the wheel components to remove any build up of road salt. Repeat the process for the other 3 wheel wells.
After the wheel wells are clean it's time to clean your tires and rims with a wheel cleaner. Apply the wheel cleaner to the front and back of the wheel. The inner barrel is usually dirtier than the front and may need time for the cleaner to soak in. Be sure to inspect the tires for uneven wear, nails or any gravel stuck in the tread. Also, check your tire pressure.
Now it's time to move to the main exterior. Pre-soak the car with water and then soak the exterior with a foam cleaner. If possible use a wand extension to clean the undercarriage of the vehicle. Hand wash the vehicle with a mitt or microfiber towel and then rise off the soap with water.
Dry the exterior with a microfiber towel. Then open the doors trunk and hood to dry the inside of door jams and other hard to reach areas.
Finally, apply a layer of high quality wax to create a protective finish and prevent future grime and debris from sticking to the exterior.
Have Your Vehicle Inspected by a Professional
Check wiper blades – Remember all winter your blades have been cleaning off salt snow and ice and some wipers will not wear as well as others. Although you can always replace the wipers yourself, they can be difficult to change so have an auto care professional take care of this for you.
Check suspension and alignment – Potholes can wreak havoc on the front end of your vehicle. They can damage your wheels and suspension parts or throw your car out of alignment. Remember, it's fairly inexpensive to have your front end inspected but costly if you have to replace suspension parts. So the key is to catch any problems early before they develop into more of an expense.
Check oil and other fluid levels – It's a good idea to get a general inspection of your vehicle to make sure are systems are running properly. Check the oil and other liquids such as brake and power steering fluid.
Looking for a Collision Shop Near Roseville, MI?
Pole Position Auto Body has been serving the Metro Detroit area for nearly 29 years. We are located in Warren, Michigan just minutes away from Roseville, Centerline and Detroit.
If you are involved in an accident, the last thing you need is to worry about who you can trust to repair your vehicle. Let our highly trained technicians and state of the art color matching system get you back on the road quickly and stress-free. We have a proven track record of providing high quality repairs nearly 3 days quicker than the average facility.
We Will Provide MASSIVE Customer Service! Call: 586-775-4825