Looking for Hail Damage Repair in Warren, MI?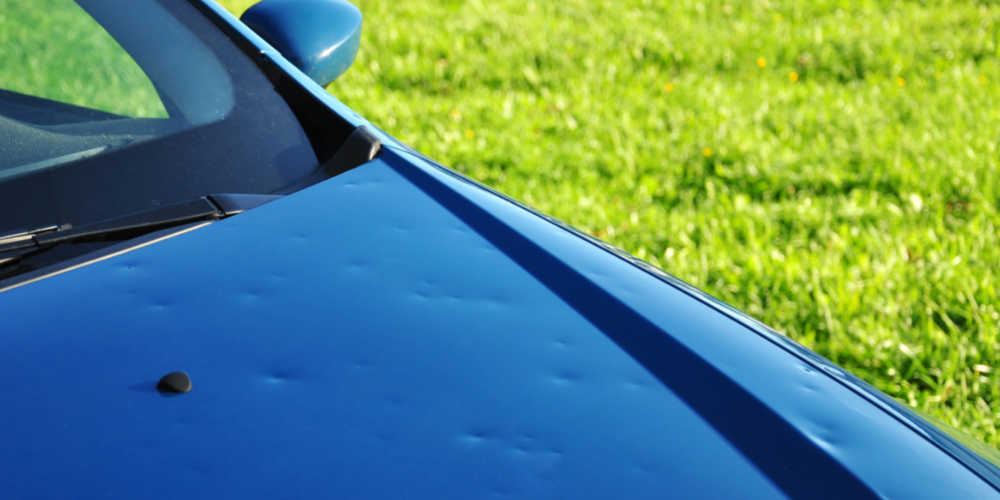 We're in the middle of storm season in Michigan and have been dealing with severe weather lately. Some of these powerful storms have brought torrential rain and hail, causing extensive damages to vehicle exteriors throughout the midwest.
A hail downpour can cause dents and scrapes to your body work as well as broken glass and soaked interiors. Not only is this damage unsightly, but it's important to get any auto body damage repaired quickly to avoid further issues like rust and corrosion.
If your vehicle has suffered damage due to a recent hail storm, our technicians at Pole Position Auto Body can restore your vehicle to showroom shine making it look like the damage never happened.
Tips to Prevent or Lessen Impact of Hail Damage
Of course we'd love to give you a warm welcome to Pole Position Auto Body, but if you want to prevent hail from damaging your vehicle in the future, here are some helpful tips.
Find Covered Parking ASAP
If you're on the road during a hailstorm, find covered parking as soon as you can. In a pinch, a gas station awning or car wash is a good place to take refuge. Or, if you're struggling to find shelter, find a building that blocks you from the direction of the wind.
Check Your Insurance Coverage
If you live in an area with frequent hail storms check your insurance coverage. It's a good idea to make sure you have comprehensive coverage as hail-damage repair can cost up to $5,000.
Protect Your Vehicle at Home
If you don't park your car in a garage when you're at home consider renting a covered parking space or building yourself a carport.
Keep Blankets in Your Vehicle
If protection from hail, such as covered parking is not available, cover your car exterior with blankets. These may not completely stop dents and dings but will greatly reduce them and add some protection to your auto glass. If you get caught out in a storm and don't have blankets on hand, car floor mats will also work. They're not ideal but at least they provide some type of barrier between hailstones and your vehicle's paint.
Install a Weather App
You may have watched the forecast prior to leaving the house but remember severe weather can form quickly. For real-time updates, weather alerts, and severe storm warnings install a weather app on your smartphone.
Finally the most important piece of advice we can give you is to stay in your vehicle during a hail storm. Hail can cause damage to your car, but it can also cause serious bodily harm. Your car will protect you from heavy falling hailstones.
We Repair Auto Body Damage from Hailstorms in Warren, MI
Pole Position Auto Body is an auto body repair shop providing hail damage repairs in Warren, MI for over 30 years.
If you have any hail damage or have been involved in an accident due to severe Michigan weather, our highly qualified technicians will restore your vehicle to it's pre-accident condition in the quickest turnaround time possible – almost 3 days quicker than the average repair facility.
Call Pole Position Auto Body: 855-928-1409
We will Provide MASSIVE Customer Service!